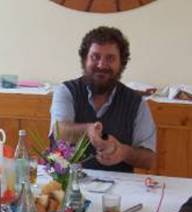 Ogni giorno ci si può stupire di una frase, un gesto, una parola che arrivano direttamente al cuore.
E quando si riescono ad esprimere in modo scritto si possono condividere, perchè, chissà, qualcun altro possa stupirsi con noi.
Abba Sandro ci ha regalato delle sue riflessioni.
Scopriamo… l'acqua calda….(pps 84kb)
Per la festa di tutti i Santi una meditazione sulla Santità in cordata (pps 317kb)

Come i doni dello Spirito Santo ci fanno vivere le Beatitudini ?
Una riflessione di Pentecoste 2010 (pdf 503kb)  (versione libretto stampabile- pdf 504 kb)
In English:
  How the Holy Spirit's gifts help us to live the Beatitudes.
  By Abba Sadro for Pentecost 2010 – english version (pdf 498kb)  – (as book for printing – pdf 504 kb)

E' un momento difficile ? Con una preghiera…. una riflessione per fermarci con Lui
In English:
   It's a difficult moment ? With a prayer…Abba Sadro riflect on this – english version

Dall'Etiopia, un suggerimento per pensare alla pace (.pps, 53kb)
Giornata del "Pi_greco" (.pps, 89kb)…
Amare ed essere amato
L'ultimo messaggio scritto da Abba Sandro prima che il Signore lo volesse vicino a se' … è l'amore ! (pdf 142kb)
Pregare la Parola –> collegamento alla pagina delle preghiere
E anche quando il Signore l'ha chiamato a sè, le sue Parole ci danno modo di riflettere.
COLLEGARE IL LIBRO